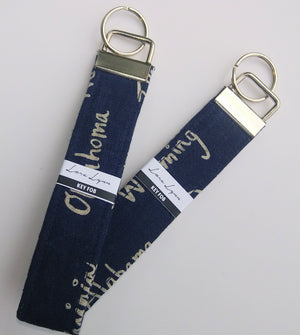 DENIM BLUE STATES 72 Key Fob Wristlet
Sale price Price $5.00 Regular price
This handmade key fob is a fun and practical way to carry your keys. The design allows you to slip it over your hand to wear on your wrist - great when your hands are full!
Made from 100% cotton fabric and lined with webbing, making it extra strong. It is finished with hardware and a key ring.
Measurements: 1" wide and 5" long forming a 10" loop
*Pattern may vary slightly from the photo
*This is a wristlet key fob, not a lanyard.